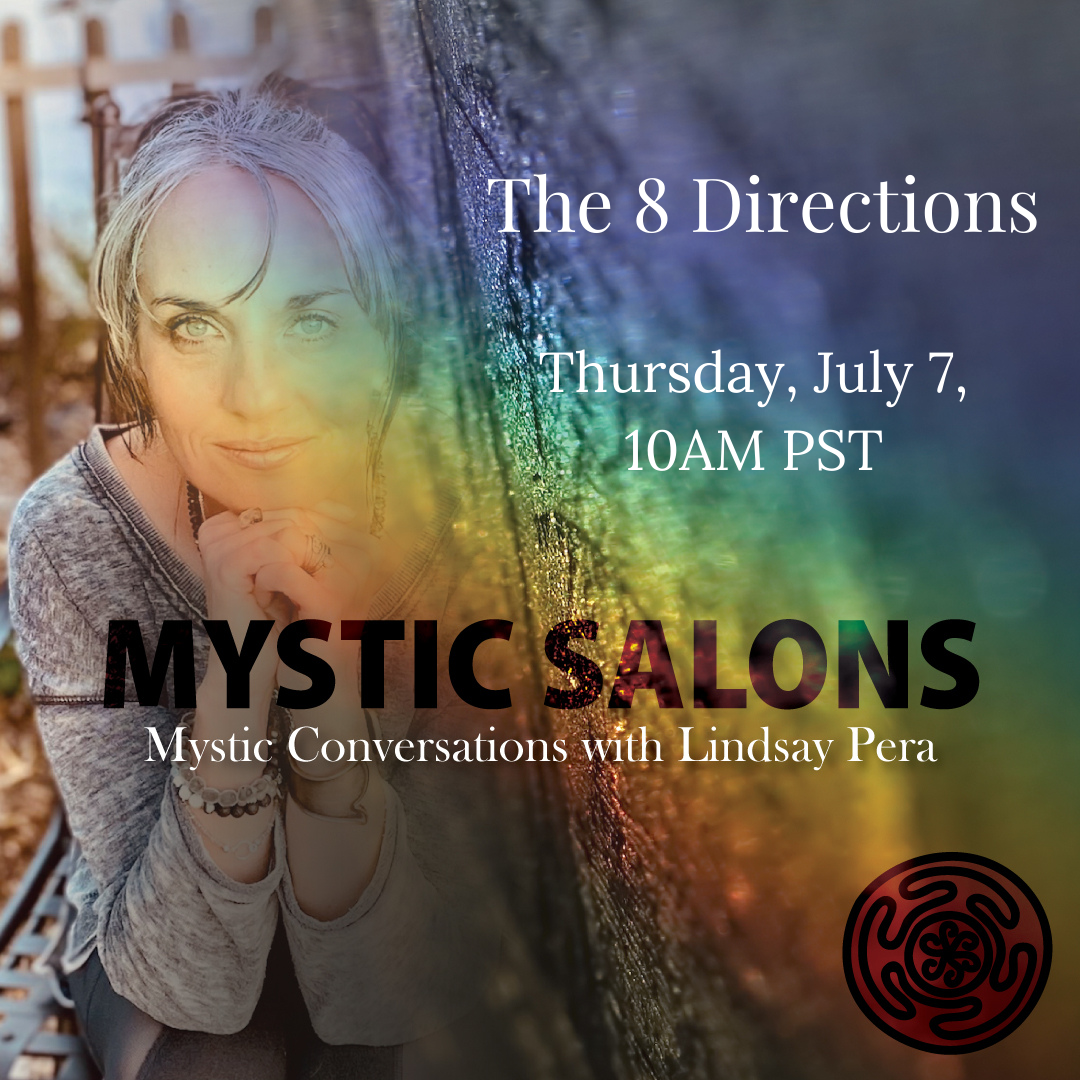 In each Mystics Salon workshop, Lindsay brings one of the key teachings from her book "the Mystics Path" and her private Mastermind and shines a light on how to bring that support to you.
In this month's workshop, Lindsay will be sharing the teachings on Clarity in Chaotic Times - The 8 Directions.
Coming into Right Relationship with the 8 Directions helps you 
∞ Know your PLACE
∞ Come into Right here Right Now (the only place from which you can manifest)
∞ Design ANYTHING to be in flow and grace by respecting and following the innate energies of the directions
∞ And SO much more....

In this call we....
∞ Spoke of the origins of the Mystic 8 Directions
∞ Mapped the directions to the wheel
∞ Developed competency to discern between cardinal, liminal and relational directions and access the unique medicine of each
Join us for this transformative and activating workshop and step onto The Mystics Path for just $8 a month or $88 a year.
Lindsay is an intuitive strategist and a former Silicon Valley corporate gal with decades long experience in consulting, software and technology. Lindsay is the founder of the Modern Mystics Institute, the Mystics Society, and author of the Mystics Oracle, Almanac and the Mystics Path. She leads this new paradigm business community for emerging leaders, entrepreneurs, creatives, intuitive and healing practitioners that focuses on Right Livelihood and providing tools and insights for changing times. 
No experience is required to join the Salon - just bring a pen and an open mind and be ready for #Shift. We are here to support you and make this work accessible to all who are seeking a new, more aligned and resonant way. 
"The ground around Lindsay is always fertile with insightful inquiry as well as very practical wisdom. "

Mariana Bandara

"You know when they say when the student is ready, the teacher appears? Well that's EXACTLY what Lindsay Pera has been for me. "

Allison McDanel

Founder of Sacred Worth LLC

"I love that founder Lindsay Pera (and her many partner/leaders) invite all modern mystics to dance at the edge of change, to engage and support each other to raise our powers to an ever-higher level—to reach into our hearts, to stretch our capacity for gratitude, to master the mystic art of manifestation, and to act as leaders for global transformation. "

Lian Mann

"In my 6 months of working with Lindsay, I have increased followership and client engagement, created a communication and email strategy that works, been featured on national level podcasts and had amazing guests on mine. All of this focus and intention has translated to money in my business."

Beth Wonson

Founder & CEO of Beth Wonson and Co.